Printed
Circuit Board
Tooling &
Accessories:





Machine
Shop:


PRODUCTION MACHINING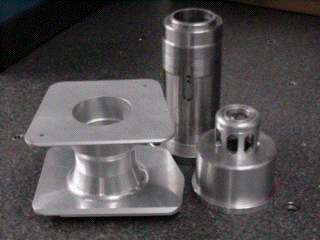 Outside the PCB industry we have manufactured a wide range of products. These include gas pedal assemblies for high performance vehicles, lamination molds for a sports equipment manufacturer, components for aquaculture micro filtration systems, satellite components, aerospace parts and more.

In our facility, we use a variety of precision machinery including a Haas VMC, Fadal VMC, an Okuma Cadet CNC Turning Center, various knee mills and lathes equipped with DROs and a computerized CMM. We use a Gibb CAD/CAM system and can receive prints on disk or by modem in Vellum, DXF or IGES formats.

We have skilled operators and machinists and are committed to meeting your quality standards and production deadlines.


"Skilled In-House Machinists and Operators
for Fixtures and Tooling Since 1986"