Printed
Circuit Board
Tooling &
Accessories:





Machine
Shop:


LAMINATION PLATES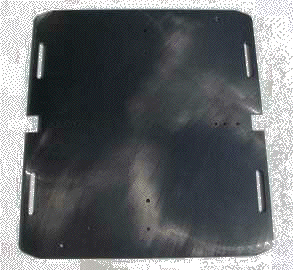 All Lamination Registration Plates Are NOT Created Equal!

Fixture Engineering's Lam Plates especially offer:
Serviceability

Our Lamination Plates are designed for extended usage. All holes are in industry standard replaceable bushings. Plates are uniform in hardness. The result of careful design, in-house manufacturing and inspection is a plate with a long work life.

Availability

We stock most common sizes of blanks so we can offer a quick turnaround on orders. As always, absolute attention to quality is maintained even on rush orders.

Flexibility

We will work with you on special designs for unique applications. We can assist with concept, design and construction of custom plates. Our shop and experienced staff are at your disposal when you need something special.

Our Standards include:

Material 4140 HT
Hardness 38-40 Rc
Surface Finish 35 RMS or better
Flatness ±.005 per ft. .007 TIR
Parallel ±.001
Thickness .375 ±.003
OD ±.030
Hole to Hole ±.001
Bushings: all holes flush to ±.003
Typically, any two plates will make a set.

Lamination Plate Refurbishing
In addition to providing new lamination plates, Fixture Engineering also offers lamination plate refurbishing. With our process, we can refurbish lamination plates for less than the cost of a new plate, thus saving you money by extending the life of each plate. Lamination plate refurbishing includes:
Removing resin buildup

Inspecting plate for flatness

Inspecting hole to hole locations

Removing old bushings & replacing with new
Lamination plate refurbishing is a great way to help control costs by allowing you to get the maximum usage out of each plate. Feel free to contact us to find out just how much refurbishing your lamination plates can save you.

"Skilled In-House Machinists and Operators
for Fixtures and Tooling Since 1986"